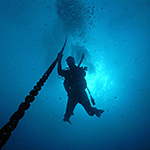 The recommended depth limit for recreational divers — even those with Advanced training or considerable experience — is 100 feet. Unfortunately, most of diving's most dramatic walls and many of its best wrecks lie in depths approaching 130 feet.
Once divers pass the 100-foot mark, potential problems such as narcosis, accelerated gas consumption and rapidly diminishing no-stop time increase exponentially. To better help divers deal with these challenges, Just Add Water offers the Deep Diver Specialty course. This two-day, four-dive course builds on the knowledge and skills divers acquire during the Advanced course deep dive, and goes well beyond them.
Who Can Learn?
Students must meet the following prerequisites:
Be at least 18 years of age
Be certified as Advanced Open Water Diver level (or equivalent)
Be able to answer No to all questions on the Medical History form, or secure a physician's approval for diving prior to the start of the course
What is Involved?
This course involves self study, followed by a single classroom session, during which you will go over equipment and discuss upcoming dives and skills. This is followed by two evenings of open-water training dives.
Where Do You Learn?
Except as noted, classroom sessions take place either at our Willoughby or Fairview Park locations. Locally conducted open-water training dives generally take place at Gilboa Quarry.
When Can You Start?
Weeknight classroom sessions typically run from 6:00 until 9:00, followed by a weekend of open water training. Contact store for upcoming dates.
Please Note: While we make every effort to ensure that the information appearing on our website is accurate and up-to-date, it is your responsibility to call Just Add Water at least 24 hours in advance to confirm date, time and meeting place.
How Much Does It Cost?
The course fee is $192.75 per person. Students are responsible for transportation, lodging, meals, dive site admission, and must supply the items listed below.
What Equipment Will You Need?
Required Equipment: Students are also responsible for supplying the following:
Mask, snorkel, fins
Adequate exposure protection
One cylinder per dive, per day
Weight system, weights
Buoyancy Control Device (BCD)
Regulator/alternate air source
Dive computer or depth gauge and timer
Underwater compass
Primary and backup dive lights
Tank marker light
Audible surface signal
Surface signal (safety tube)
Cutting tool
Slate
Some items may be available for rental.
Proper equipment is essential for your safety & comfort while scuba diving. While we do have an extensive rental department and can lend you most required diving equipment, please be aware that you will be required to supply your own set of scuba appropriate, mask, fins and snorkel (we do not rent these items.) If you do not already own these items, please stop by Just Add Water to be educated on the different styles and what will work best for your diving habits. Being professionally fitted, (especially for your scuba mask) is essential. Your comfort and safety are of upmost importance to us at Just Add Water. We will do everything we can to make sure you are comfortable in your gear and enjoying your scuba experiences to the fullest.
How Do You Sign Up?
Just call or visit either Just Add Water location.
Need Forms?
Vist our Downloads page to access any waiver, medical and other forms you may need for upcoming Just Add Water scuba courses or experiences.