Bohio Dive Resort, Grand Turk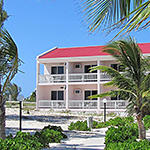 February 25-March 4, 2017: If you want warm sunny days, crystal clear blue water, white sandy beaches, a great atmosphere and some of the best scuba diving in the world, look no further than Bohio Dive Resort, nestled among the palms and casuarina trees on an award-winning beach in the island paradise of Grand Turk, of the Turks and Caicos Islands. The resort itself features free Wifi, refrigerators and cable TV in each room and personal dive lockers near the boat. More…
Little Cayman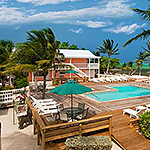 March 11-18, 2017: Little Cayman Beach Resort is situated on a private beach on the south shore of Little Cayman, bordered by the South Hole Sound, a turquoise lagoon protected by the reef. This two-story hotel offers modern facilities in a boutique setting. Pastel pink with a white picket fence, this resort features 28 garden rooms and 12 oceanfront rooms. More…
Jardines Aggressor, Cuba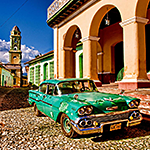 March 23-April 1, 2017: Learn about Cuba's unique marine environment during an Oceans for Youth Foundation People-to-People educational program. Spend two hotel nights at the 5-star Parque Central Hotel in Havana, followed by a week aboard the Jardines Aggressor, expoloring some of the world's most pristine walls and reefs. More…
Blackbeard's Cruises, Bahamas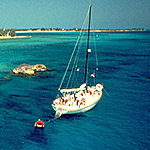 April 29-May 5, 2017: This is one of diving's most exceptional values. Blackbeard's Cruises has sailed the Bahamas for over 30 years and carried more divers than any other operation in the Caribbean. Blackbeard's is an adventure packed, affordable dive vacation with something for everyone. Whether an average Joe or a CEO, the Bahamas itinerary includes the best variety of diving, including walls, wrecks, reefs, drifts, blue holes, night and shark dives. More…
Sunset House, Grand Cayman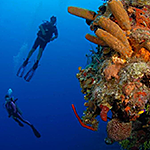 June 17-24, 2017: The Cayman Islands, a British Crown colony, are inhabited by warm, friendly people who take genuine pleasure in welcoming visitors. They are justifiably proud of both their pirate heritage and some of the most beautiful beaches and reefs in the Caribbean. This area, located just 480 miles south of Miami, has become an increasingly popular mecca for scuba divers. More…
Bonaire Experince for High Schoolers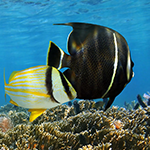 July 9-146, 2017: The Sprout Experience is a program of travel and educational experiences for kids in grades 9 through 12. Among this year's offerings is a week-long trip to Bonaire. In concert with this trip, participants will have the opportunity to learn to dive and become certified. The trip leaders are professional educators; Just Add Water will be providing the training and dive supervision. More…
Volivoli Beach Resort, Fiji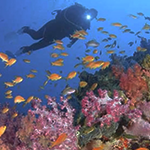 September 21-30, 2017: Set on a head land amongst lush gardens and a marine playground on your doorstep, the newly renovated Volivoli Beach Resort offers you a range of uninterrupted ocean view accommodations, perfect for divers or simply friends traveling together. Take the plunge; you'll be amazed what's below the surface. More…
Maldives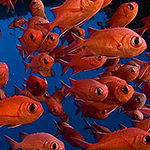 October 26-November 4, 2017: Astoundingly beautiful soft corals. Abundant fish and invertebrates. Breathtaking large animal encounters. These are just a few of the words divers use to describe the Maldives. Located in the Indian Ocean, this grouping of thousands of jewel-like islands sees few divers from the Western Hemisphere — despite its world-class diving. Only two spaces remain; act now! More…
The Villa at Dunbar Rock, Guanaja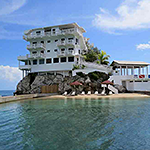 November 4-11, 2017: The Villa on Dunbar Rock is not just a resort – it's a dream vacation destination. Visits to Dunbar Rock offer a unique dive vacation experience from start to finish. Perched on a cay with 360° views of Sandy Bay, Guanaja and surrounding cays, this unique resort blends beauty, serenity and something unidentifiably special in a laid-back, inviting atmosphere. More…
The Mantas of Socorro
February 21-March 1, 2018: The Revillagigedo archipelago, of which Socorro Island is one, possesses an absolutely unique ecosystem with many endemic plant and animal species. That is why the Archipelago is often called Mexico's Galapagos. Indeed, it is as remote, as diverse, as pristine, and, well, even less inhabited than Ecuador's pearl. And for divers, this is the place to go for unforgettable manta diving, which is as unique as the Archipelago itself. This is the only place on Earth where you will — guaranteed — dive and interact with giant mantas. More…
Or On Your Own?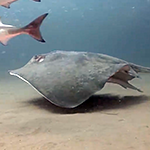 Let us Help: If your travel schedule does not coincide with ours, however, we also offer travel opportunities for individuals, couples and small groups. Find out more…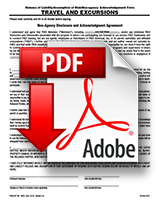 Need a PADI Travel Release Form?
You and every member of your party will need to complete and sign this form, then return it to Just Add Water in order to participate in any of our group trips. Download form.
Travel Checklist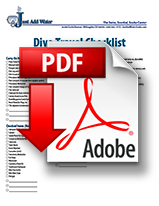 Want to make sure you don't leave anything behind? Download our convenient travel checklist.
Don't Leave Home Without DAN

Divers Alert Network membership can offer a host of benefits, including worldwide recompression chamber insurance your current health coverage most likely does not provide. Low-cost dive travel insurance available, too. More….