Short of remembering to breathe and equalize, there is no skill more critical to divers than controlling buoyancy — and no skill more difficult for new divers to master.
Unfortunately, the average diver's buoyancy skills are not great — and can even be so poor that they make divers a danger to themselves and the environment. Why do so many divers have such poor buoyancy skills? There are several reasons, including:
Developing good buoyancy control skills takes time and practice — something absent from so many entry-level scuba courses these days.
Learning to control buoyancy also requires the opportunity to get out and dive, while frequently stopping, starting and changing depth. Unfortunately, for many new divers, their open-water training consists mostly of kneeling on the bottom, waiting impatiently for the opportunity to perform yet another "skill." In fact, most entry-level training "dives" don't involve much in the way of actual diving. (No wonder so many new divers can't control buoyancy.)
While we would like to think that our beginning divers are fortunate enough to avoid these problems, not every diver gets to learn to dive from us. And even some of our own students could use a little more work in this area.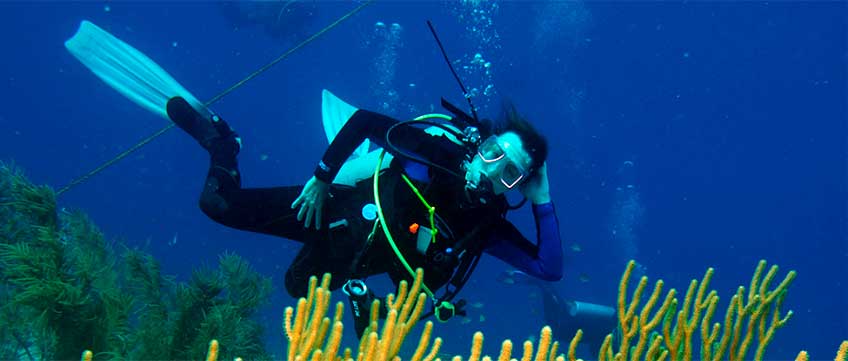 This is why we offer this convenient Specialty Diver course — so that every diver has the opportunity to master and excel at this important skill.
Who Can Learn?
Students must meet the following prerequisites:
Be certified the Open Water Diver level
Be able to answer No to all questions on the medical form or secure a physician's approval for diving prior to the start of the course.
What is Involved?
This course involves self study, followed by a single classroom session, during which you will go over equipment and discuss upcoming dives and skills. This is followed by a day of in-water training.
Where Do You Learn?
Except as noted, classroom sessions take place either at our Willoughby or Fairview Park locations. Locally conducted in-water training generally take place at a nearby pool.
When Can You Start?
Weeknight classes typically run from 6:00 until 9:00, followed by at least one day of open-water training on the weekend.
Starting Dates
April 18th (class) April 21st (pool) Willoughby
May 10th (class) May 12th (pool) Willoughby
May 23rd (class Willoughby) or May 24th (class Fairview Park) May 27th (dives White Star)
June 13th (class Willoughby) or June 14th (class Fairview Park) June 17th (dives White Star)
July 5th (class Willoughby) or July 6th (class Fairview Park) July 8th (dives White Star)
July 25th (class Willoughby) or July 26th (class Fairview Park) July 29th (dives White Star)
August 8th (class Willoughby) or August 9th (class Fairview Park) August 12th (dives White Star)
August 15th (class Willoughby) or August 16th (class Fairview Park) Aug 19th (dives White Star)
Sept 5th (class Willoughby) or Sept 6th (class Fairview Park) Sept 9th (dives White Star)
Sept 26th (class Willoughby) or Sept 27th (class Fairview Park) Sept 30th (dives White Star)
Oct 17th (class Willoughby) or Oct 18th (class Fairview Park) Oct 21st (dives White Star)
Please Note : While we make every effort to ensure that the information appearing on our website is accurate and up-to-date, it is your responsibility to call Just Add Water at least 24 hours in advance to confirm date, time and meeting place. Just Add Water reserves the right to cancel up to 48 hours in advance, due to low registrations, weather related concerns, or other unforeseen circumstances. In the event that Just Add Water makes a cancellation we will make every effort to find a suitable option for rescheduling. Just Add Water is not responsible for any monetary loss related to travel expenses including but not limited to, hotel accommodations, rental vehicles, etc.
How Much Does It Cost?
The perfect Buoyancy Course is $180. This includes, your classroom and pool sessions, digital learning materials and digital certifcation card. Students must also supply the items listed below.
What Equipment Will You Need?
Required Equipment: Students are also responsible for supplying the following:
Mask, snorkel, fins
Adequate exposure protection
One cylinder per dive
Weight system, weights
Buoyancy Control Device (BCD)
Regulator/alternate air source
Dive computer or depth gauge and timer
Underwater compass
Primary and backup dive lights
Audible surface signal
Surface signal (safety tube)
Cutting tool
Slate
Some items may be available for rental.
Proper equipment is essential for your safety & comfort while scuba diving. While we do have an extensive rental department and can lend you most required diving equipment, please be aware that you will be required to supply your own set of scuba appropriate, mask, fins and snorkel (we do not rent these items.) If you do not already own these items, please stop by Just Add Water to be educated on the different styles and what will work best for your diving habits. Being professionally fitted, (especially for your scuba mask) is essential. Your comfort and safety are of upmost importance to us at Just Add Water. We will do everything we can to make sure you are comfortable in your gear and enjoying your scuba experiences to the fullest.
How Do You Sign Up?
Just call or visit either Just Add Water location.
Willoughby: 440-942-7575
Fairview Park: 440-734-3000