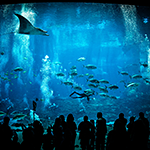 This is a spectacular trip that will exceed your aquarium expectations! This is the only location in the world where encountering whale sharks in the water is guaranteed! The program includes admission to the world class Georgia Aquarium and all presentations and galleries.
This is going to be a fun weekend getaway! Who's in?
It is possible to fly from Cleveland or take a roadtrip and drive to Georgia (drive time from Cleveland is roughly ten hours.) To make travel even easier, the aquarium supplies all of the equipment you will need. (To prevent contamination and for the safety of the animals, the aquarium requires you to use their dive equipment. You may bring your own mask. All other equipment is provided,)
Our host for this trip is the Georgia Aquarium, which offers an entertaining, educational and intriguing experience for guests of all ages. While promoting a fun and enjoyable learning experience, the aquarium instills in its guests a greater appreciation for the world's aquatic biodiversity.
Beynd the aquarium itself, there is a host of things to see and do in downtown Atlanta. Local attractions include:
For more ideas, visit 50 Fun Things to do in Downtown Atlanta.
How Much Does it Cost?
Trip Pricing:
Whale Shark Dive: $415 (includes general admission and tax) Please be aware there are no refunds unless we can find someone to take your spot.
What's Included: The basic trip price includes the following (if applicable)
Journey with the Gentle Giants - Dive Immersion Experience

General admission to the Aquarium

Taxes and fees
Not Included: Travelers are responsible for the following (if applicable):

Sign Up Now
Space on Just Add Water group trips is limited and offered on a strictly first-come/first-served basis. You can prevent someone else from getting your spot by signing up as soon as possible. To do so, simply stop by the store or call (440) 942-7575.