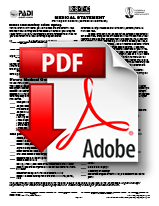 Directions
Prior to the taking part in any Just Add Water educational or discovery program, you will need to complete and sign the standard Medical History form. Be aware that the attorneys who designed this form were especially picky about how you complete it. In particular:
You must physically write out the words YES or NO to each and every question.
You cannot simply put a Y or an N, or use checkmarks or Xs.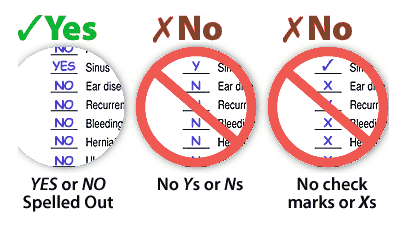 Now unless you can write very small, and have excellent eyesight, this can be difficult to do by hand. The better alternative is to save this form to your hard drive, re-open it in Adobe Acrobat or Acrobat Reader, enlarge it until it is easy to read, then complete, sign and save it digitally. You can then just email it to us.
In Acrobat, you will be able to answer each of the YES/NO questions using a simple drop-down menu. This will save you considerable writing or typing. Just be aware that once you sign this form digitally, you cannot go back and change your answers without invalidating your signature.
If you need to print pages 1 and 2 of the form, it is important that you do so on the front and back of a single sheet of paper. It is not valid otherwise. Be sure to fill out the contact information on the top half of the back. Assuming you can honestly answer NO to all of the questions, bring the signed form with you to Just Add Water.
What if I have to answer YES?
Don't panic. It just means that you have a condition that requires a physician's approval prior to taking part in any in-water activities. Here is what you do:
Take the completed Medical History form to your physician, along with the Guidelines for Recreational Scuba Diver's Physical Examination.
Discuss the medical history/exam form and guidelines with your physician. If he or she has a question, the guidelines have a number at Duke University Medical Center you can call.
Assuming your physician is okay with you diving (which is generally the case), he or she can sign the form where indicated on the back. Bring the signed form with you when you come to Just Add Water.
This is Important: You must either bring the medical history form with a NO to all questions, or the same form with one or more YESs (but signed by your physician), with you or you will not be allowed to participate. No exceptions.